Chinese media turned up to welcome the Academy students to Wudang Shan home of the Wulong (5 Dragons) Academy. Taoist Master Zhou Jin-bo assisted by the expert translation by AATC founder Grandmaster Khor strengthened the bond of affiliation between the two schools by teaching the "Eight Golden Treasures" and "Bagua" (Eight Trigram Palms). This was an excellent preview of the skills to be introduced to Australian through the Academy's Annual Seminars in September.
Master Zhou presented the Academy with a fabulous gift the symbol of Wudang a Snake and Tortoise gold statue.
To watch the Chinese TV News interview of Grandmaster Khor and the tuition with Taoist Master Zhou on Wudang Mountain, scroll to the bottom of this page and click the link to our YouTube channel.
Click on the pictures below for more pictures from the tour

Click picture below to watch Chinese TV News footage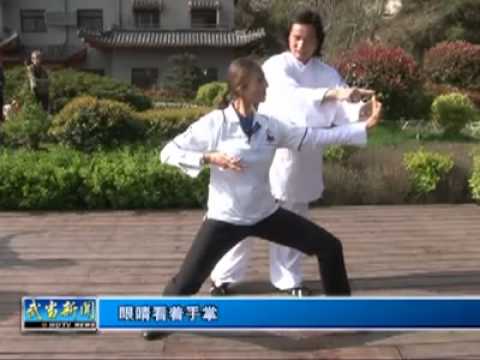 Pages of Interest
~ WARNING ~
Tai Chi and Qigong has been known to cause increased energy levels, health and happiness.
Discover how to make Tai Chi and Qigong part of your daily life now!
Make it happen, Living Chi is for Everyone!
Check for a class near you
or
Learn at your own pace at home
If you are already enrolled remember to play some daily for best results.